Alaska earthquake prompts tsunami alert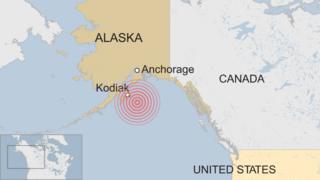 A tsunami alert has been issued after a 7.9-magnitude earthquake was recorded off the coast of Alaska in the US.
It hit 280km (173 miles) south-east of Kodiak, 25km deep, at 00:31 (09:31 GMT), the US Geological Survey said.
The US National Weather Service says a warning is in effect for the coasts of British Columbia and Alaska, while the US west coast is on tsunami watch.
Officials in Anchorage warned coastal areas, saying there was "extraordinary threat to life or property".
The alert told people to seek refuge on higher ground in affected areas.
Kodiak police had this warning for the public:
Residents in Kodiak have been evacuating in the middle of the night, according to this footage uploaded on Twitter by one user:
The NWS Pacific Tsunami Warning Center said that, based on the preliminary earthquake parameters, "widespread hazardous tsunami waves were possible".
Hawaii has also been placed on tsunami watch.
This means emergency officials and the public should prepare to take action.
Officials in Hawaii say the data so far suggests a tsunami could be destructive even though the island is far from the epicentre of the earthquake.
The authorities there are promising hourly updates to keep the public informed.
One Twitter user is reporting hearing tsunami sirens in Kodiak.
A US weatherman has tweeted about a buoy which reported a 32ft (9.7m) water rise shortly after the earthquake hit.
One Alaska reporter got this response when he called the Kodiak police department, looking for information about the tsunami threat.