Emma Dent Coad MP apologises over 'racist blog post'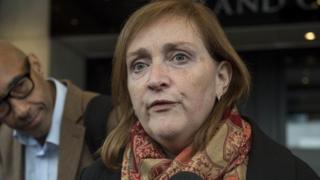 A Labour MP accused of writing a "racist" article about a London Assembly member has apologised for "any offence caused".
Emma Dent Coad wrote a blog piece in 2010 in which she labelled Shaun Bailey a "token ghetto boy".
Mr Bailey called the piece a "hate-filled, racist article".
Ms Dent Coad told BBC London Radio she had been quoting "an Afro-Carribean" constituent in her blog. She added: "If [Mr Bailey] is offended, I apologise."
In the piece Ms Dent Coad claimed Mr Bailey, who was a parliamentary candidate for Hammersmith, had "stigmatised" the area he was born in by referring to it as a "ghetto".
"Who can say where this man will ever fit in, however hard he tries? One day he is the 'token ghetto boy' standing behind D Cameron, the next 'looking interested' beside G Osborne. Ever felt used?", she wrote.
After the blog post was highlighted, Mr Bailey said he had never been "labelled a 'token ghetto boy'" before and was "shocked and saddened" by the article.
He said Ms Dent Coad's "use of language should not be acceptable for an elected politician… and she should be ashamed".