Fossil tracks are Australia's 'Jurassic Park'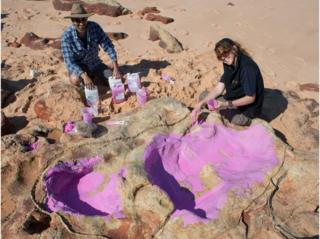 Scientists have described a remarkable collection of dinosaur tracks on beaches on the Dampier Peninsula, Western Australia.
More than 20 different types of fossil footmarks have been captured in sandstone rock.
Some are 1.5m in size, recording the movement of sauropods – the giant beasts with long necks and tails.
The trackways, many only visible at low tide, were "globally unparalleled", claimed the lead scientist involved.
"It is extremely significant, forming the primary record of non-avian dinosaurs in the western half of the continent and providing the only glimpse of Australia's dinosaur fauna during the first half of the Early Cretaceous Period," Steve Salisbury said in a statement.
"It's such a magical place – Australia's own Jurassic Park, in a spectacular wilderness setting."
Dr Salisbury said some of the tracks were left by stegosaurs – the creatures that sported bony plates along their backs. This is the only evidence of their presence in Australia.
The researcher put together a team from Queensland University and James Cook University to investigate the site after being alerted to the footprints' existence by the area's Goolarabooloo Traditional Custodians.
Aboriginal people had long referred to the markings in their oral history.
Dr Salisbury's team spent more than 400 hours detailing the prints between 2011 to 2016.
Thousands of tracks are recorded at 48 discrete sites centred on Walmadany (James Price Point).
The scientists examined and measured the depressions using three-dimensional photogrammetry, which builds accurate models of the subjects under investigation by taking pictures from various angles.
The research has been published as the 2016 Memoir of the Society of Vertebrate Paleontology.