Indian bank branch at centre of $1.8bn fraud is closed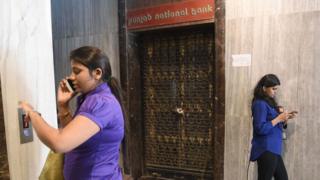 Indian federal police have sealed off the south Mumbai branch of a bank at the centre of the biggest loan frauds in the country's history.
A billionaire jeweller, Nirav Modi, and others are accused of colluding with employees at Punjab National Bank.
It is alleged they obtained fraudulent advances for payments to overseas suppliers worth about $1.8bn (£1.3bn) from the Indian government-run lender.
Mr Modi has not commented on the case and no charges have been filed.
Three people have been arrested on suspicion of helping Mr Modi, who is understood to have left India last month. His whereabouts are unclear and the government has suspended his passport.
Reuters reported that a lone Punjab National Bank manager, later aided by a younger subordinate, engineered fraudulent transactions totalling about $1.8 billion between 2011 to 2017.
The bank said it was still investigating how they were able to do so for so long.
Shares in the bank fell more than 10% in Mumbai on Monday.
Mr Modi is one of India's richest people, and has also been the jeweller for Hollywood celebrities such as Naomi Watts and Kate Winslet. One of the biggest Bollywood stars, Priyanka Chopra, is his company's brand ambassador.
Officials from India's Central Bureau of Investigation (CBI) reportedly questioned more PNB employees over the weekend as well as some executives from Mr Modi's group.
The three people who have already been arrested include two bank officials and one of Mr Modi's business associates.
The CBI has named them as former deputy manager Gokulnath Shetty, Manoj Kharat, and Hemant Bhat, Mr Modi's associate.
A spokesman told the AFP news agency that Mr Bhat was the "authorised signatory" of several companies linked to Mr Modi.
The three are jointly suspected of making fraudulent lines of credit available to companies linked to Mr Modi and his uncle, Mehul Choksi, the spokesman said.
Mr Choksi is head of the Gitanjali Group, which has about 4,000 shops across India.