L'Oreal heiress Lillian Bettencourt dies at 94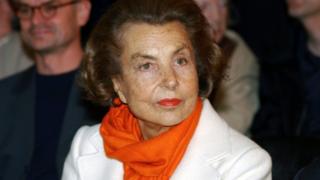 Liliane Bettencourt, the heiress to cosmetics firm L'Oreal, has died aged 94, her family has confirmed.
A statement said she died at home "peacefully" overnight.
With an estimated 2017 net worth of 33bn euros (£30bn; $40bn), she was the world's richest woman.
She left the company's board in 2012, but remained in the news after eight were found guilty of exploiting her health after a dementia diagnosis.
In a statement, L'Oreal chairman and CEO Jean-Paul Agon said: "We all had a deep admiration for Liliane Bettencourt who has always watched over L'Oreal, the company and its employees, and who was very attached to its success and development.
"She personally contributed a lot to its success for very many years. A great woman of beauty has left us and we will never forget her."
Her father, Eugène Schueller, founded a company in 1909, which turned into the L'Oreal group.