Mary Lou McDonald set to be new Sinn Féin president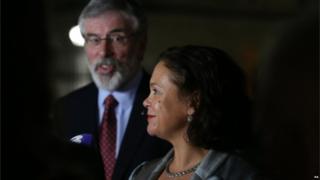 Mary Lou McDonald has been confirmed as the only candidate nominated to replace Gerry Adams as Sinn Féin president.
Mr Adams has led the party since 1983. He announced his intention to stand down in November 2017.
Sinn Féin's ard comhairle (high council) met in Belfast on Saturday to formally ratify the nominee for president.
A special party conference to elect the new leader will be held on 10 February.
Nominations for the presidency closed on Friday at 17:00 GMT, and Ms McDonald was the sole candidate.
Mary Lou McDonald has been a TD for Dublin Central since 2011.
Before getting elected to the Dáil (parliament) she was an MEP representing the Dublin constituency – becoming Sinn Féin's first MEP in the Republic of Ireland in 2004.
Mary Lou McDonald had in the past said she would like to see a contest for the Sinn Féin leadership, however she didn't get her wish.
She takes over from Gerry Adams at an interesting time in Irish politics; with an expected abortion referendum, on-going Brexit negotiations, possible general and presidential elections in the Republic- never mind the negotiations in Northern Ireland to restore devolution.
Ms McDonald is expected to spend most of her time south of the border but as the leader of an all-island party she will also have to keep a close eye on developments in the other jurisdiction.
As she has no paramilitary background the party will be hoping that she may help garner Sinn Féin support in more middle class areas and amongst women.
But the Barry McElduff affair shows the legacy of the Troubles at the moment is never very far away for Sinn Féin – probably no matter who is leader.