Nicola Sturgeon describes talks with Theresa May as 'constructive'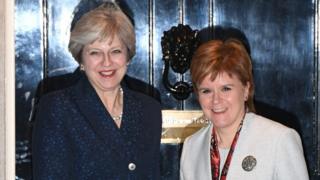 Scotland's first minister has described her face-to-face talks with the prime minister as "constructive and cordial".
But Nicola Sturgeon said she and Theresa May had failed to reach an agreement over the UK government's Brexit bill.
Mrs May indicated in September that she wanted to speak to Ms Sturgeon in a bid to break the deadlock between the two governments over Brexit.
The two leaders met for about 45 minutes inside 10 Downing Street.
It came as MPs started to examine the EU Withdrawal Bill, a key piece of Brexit legislation which is at the heart of a dispute between the Scottish and UK governments.
The Scottish government is refusing to put the bill forward for legislative consent at the Scottish Parliament unless changes are made to prevent what Ms Sturgeon has described as a Westminster "power grab" on devolved powers after the UK leaves the EU.
Speaking as she left the talks, Ms Sturgeon said she had "not yet" heard anything from Mrs May that made her think she could now recommend that Holyrood gives its consent.
But she said: "We developed a better understanding of each other's positions, and I made clear that the Scottish government wants to find agreement on the withdrawal bill.
"We oppose Brexit, but we understand withdrawal legislation is necessary, so we want to find agreement.
"But I also made clear what our bottom lines are on that bill, so discussions will continue and hopefully we can reach some points of agreement in the weeks to come."
Ms Sturgeon said the prime minister had also updated her on the wider EU negotiations, with the first minister saying it had been "useful to hear her views on that".
She added: "Overall it was a constructive and cordial meeting".
The talks were the first between Mrs May and Ms Sturgeon since March.
'Significant increase'
A spokesman for Number 10 said the prime minister had emphasised to Ms Sturgeon that "as powers are repatriated from Brussels back to Britain there will be a significant increase in the decision-making powers for the Scottish government and other devolved administrations".
The spokesman said: "The prime minister encouraged the Scottish government to continue to work with counterparts to secure the best outcome for the people of Scotland and the whole of the UK."
The two leaders also discussed the situation at engineering firm BiFab, which has said it intends to go into administration.
The Downing Street spokesman said the UK government stood "ready to provide whatever support we can".
In September, the first minister said in an interview with New Statesman that she had found previous meetings with Mrs May "very frustrating".
Ms Sturgeon said she had found it "impossible to get any human connection" with the prime minister, adding: "This is a woman who sits in meetings where it's just the two of you and reads from a script."
As well as Brexit and BiFab, the UK's two most prominent female political leaders discussed the issue of sexual harassment and inappropriate behaviour at Westminster and Holyrood, which has seen ministers forced to resign from each of their governments.
UK Defence Secretary Michael Fallon and Scotland's Early Years Minister, Mark McDonald, both left their ministerial posts following complaints about their conduct.
Both Ms Sturgeon and Mrs May have called for better measures to crack down on misconduct and support victims.