PM pledges help for young people on fees and housing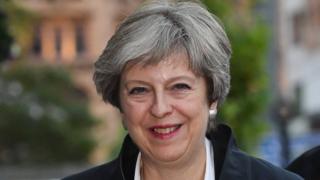 Theresa May is set to announce that tuition fees will be frozen at £9,250 in an overhaul of student funding.
On the day the Conservative Party conference gets under way, the PM said the repayment threshold would also rise, so graduates only start paying back loans once they earn £25,000.
Mrs May also made another pledge to extend the Help to Buy scheme.
During the election, Labour was seen to attract young voters by promising to scrap tuition fees altogether.
The prime minister, who is in Manchester for her party's conference this week, said: "We know that the cost of higher education is a worry, which is why we are pledging to help students with an immediate freeze in maximum fee levels and by increasing the amount graduates can earn before they start paying their fees back."
The planned £250 increase in tuition fees for 2018-19 will not go ahead and they will instead remain at the current maximum of £9,250 per year.
The overhaul of the higher education sector could also see the introduction of fast-track, two-year degree courses, an idea which has been suggested to limit the costs of young people considering higher education.
Other ideas being considered by the government as part of the overhaul are cutting the interest rates on loans and introducing lower fees for students studying certain subjects, such as engineering, where there is a skills shortage.
Analysis: Is U-turn bold enough?
By Sean Coughlan, BBC education correspondent
Calling this a "freeze" on tuition fees in England is a distinctly positive spin on abandoning a policy of increasing fees above £9,250 only put in place this year. If not a U-turn, it's certainly a Uni-turn.
But it shows how quickly the politics have changed – with rising fees and ballooning debts now a toxic combination for any party wanting to court young voters.
Although billed as a change of direction, universities had already predicted that a fee rise was "dead in the water" because, without a majority, the government had no realistic prospect of pushing it through.
Perhaps more significant is the increase in the earnings threshold for repayments – up from £21,000 to £25,000.
There is also the promise of re-examining interest rates for loans, hiked to 6.1% from this autumn.
But this will be the first time an announced fee rise has had to be ditched.
The question will be whether cancelling an increase will be a bold enough move compared with promises to scrap them altogether.
The Help to Buy expansion will see £10bn go to another 135,000 buyers in order to help them to own their own home.
The funding will allow recipients to get a mortgage with a deposit of just 5%.
The money can only be put towards the purchase of new-build homes.
Chancellor Philip Hammond said: "Young people are worried that life will be harder for them than it was for their parents – owning a home is a key part of that.
"This government understands that for many people finding a deposit is still a very big hurdle."