Refugees targeted by 'deliberate' fire in Edinburgh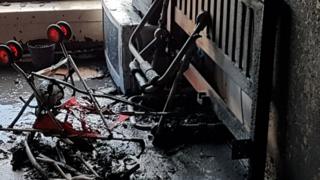 An Egyptian refugee living in Scotland has told the BBC he fears for the lives of his children after a fire attack at their home in Edinburgh.
The father-of-four claims his family was the target of a blaze at a block of flats in the Wester Hailes area of the city on Saturday.
Police said no-one was injured in the incident.
They have said they believed the fire was started deliberately and that an investigation was under way.
Fire crews were called to reports of a fire in the block just after 02:00 on Saturday morning.
'Friendly and welcoming'
When they arrived they found a fire well alight in the common stairwell of the building.
The father-of-four, who does not want to be named, moved to Scotland in July last year. He said he initially felt safe.
He said: "I heard about Scottish people, they're friendly and welcoming to people from different countries and different cultures, never thought this was going to happen with us in Scotland."
However, he said his family were first targeted five months ago when his young daughter's buggy was set alight on the ground floor of their block.
He said: "We couldn't believe this happened. We had spoken to the police and the council as well."
'Fireraising incident'
He said that since the first attack his wife had stopped wearing her niqab because she no longer felt safe.
He added: "My wife she used to wear niqab, but she took it off because she is scared. We can't feel safe nowhere, it's just a disappointment really,
"Every day things are getting worse than ever, honestly, we don't feel safe at all, my kids can't sleep."
A spokesman for Police Scotland said: "Police in Edinburgh are appealing for information after a common stair within a block of flats was set alight in the early hours of 2 September.
"At around 2.12am on Saturday police and fire services were called to flats after a resident reported the fire. Luckily, there were no injuries and no evacuations were necessary."
Det Insp Bruce Coutts of Corstorphine CID added: "We are treating this as a deliberate fireraising incident and are carrying out inquiries in the local area.
"Anyone with information is asked to contact police."